GROUP SHOW Opening Reception December 10th from 3pm-8pm
at 6BASE, 728 East 136th St, Port Morris, Bronx
Open Saturday & Sunday from 12pm-6pm and by appointment during the week.
Contact: marina@6base.nyc
GROUP SHOW Facebook Event Page
There's a new space for art in the South Bronx. Founded by art aficionado Marina Gluckman in June 2016, 6BASE is a rotating artist's studio and exhibition program. Artists are invited to use the space as their studio for a month and then present their work in an exhibition after their residency.
The space itself is in an industrial warehouse built in 1931 located at 728 East 136th 6B in Port Morris. There are a number of artists in the building as well as a few other businesses, including the NY Sluggers Baseball Academy, a graphic/animation studio, and a solar energy company.
"New York City has become a challenging place for artists to maintain their practices, partly due to the rise in rents. I wanted to provide a platform that gives artists the opportunity to realize and show their work," says Gluckman.
l – 728 East 136th, r – 3 oil paintings by Blair Whiteford
Group Show, the second exhibition in the space, opens on Saturday, December 10th, and will feature work by emerging artists. Some of the artists on view have studios in the space next to 6BASE and others have studios in Brooklyn and Queens. Participating artists include Mauricio Cortes, Alteronce Gumby, Keiran Brennan Hinton, Cindy Ji Hye Kim, Jenny Jisun Kim, Jesse Kreuzer, Cayman Robson, Cody Umans, and Blair Whiteford. The show is comprised of paintings and some works on paper.
l- Cindy Ji Hye Kim, Conspiracy Theory, 2016 Charcoal and graphite on paper, 8 1/2 x 11 inches
r- Mauricio Cortes, Not Yet Titled, 2016, Oil and collage on canvas, 48 x 96 inches
Marina considers herself fortunate to have been surrounded by creatives her entire life, and would like to continue to build a network of artists and engage with the existing Bronx art community. "I hope to create a supportive environment and open up the space to visiting artists, curators, writers, and musicians to share their work and participate in events, talks, and critiques."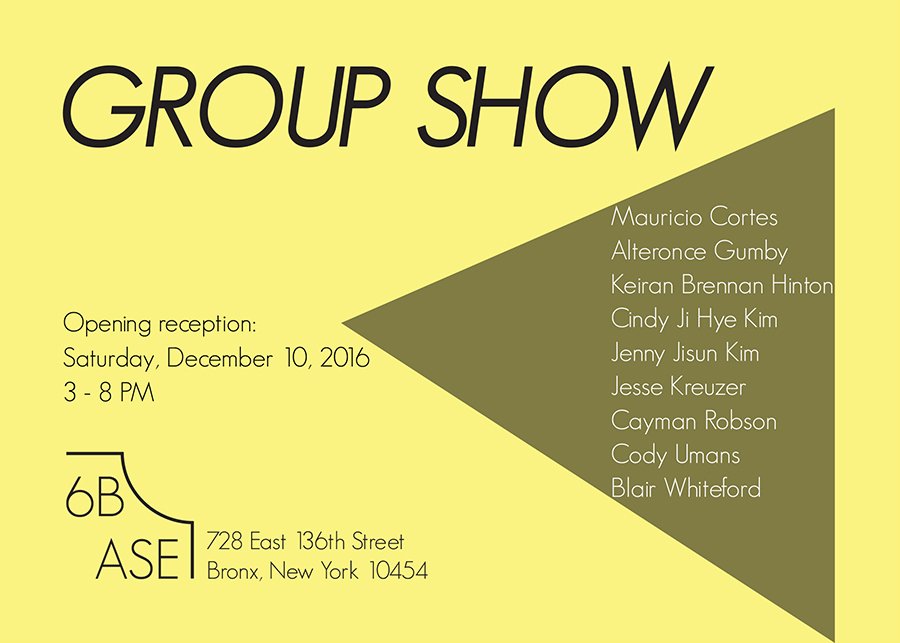 Cover photo: Marina Gluckman standing in front of the inaugural exhibition, Alteronce Gumby: One Way Ticket Across The Universe, at 6BASE. Photo credit: Arielle Bakoss